The Importance of High Visibility Rain Gear for Roadside Workers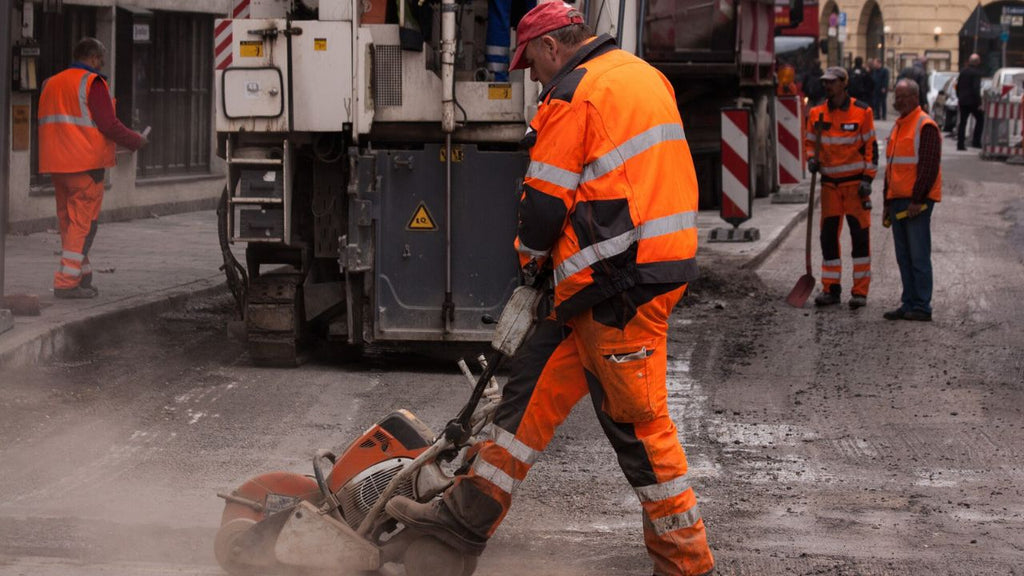 Did you know that roadway incidents involving motorized vehicles are the leading cause of work-related deaths in the United States? Every year, more than 1,000 workers are struck and killed, and another 25,000 are seriously injured. It is an ongoing problem that companies and public safety officials work tirelessly to address. 
Things become even more precarious in the rain, where visibility diminishes. An increased likelihood of hydroplaning or otherwise losing control of the car in the rain makes things even more precarious for workers.
For this reason, high-visibility rain gear is an essential protective tool for roadway workers. This article details the many important reasons you should consider investing in it for highway workers.
It also lays out some recommendations for finding the best gear to meet your worksite requirements. The information will help you find rain clothing that keeps your personnel dry, comfortable, and safe. 
What Is High-Visiblity Gear?
High-visibility clothing is a type of personal protective equipment. It is made using bright colors (usually yellow, orange, green, or white) and/or has luminescent strips or other designs. This reflects light from motor vehicles, making the person wearing the material more visible.
Why Roadside Workers Should Wear Hi-Visibility Rain Gear
There are several reasons roadside workers should wear high-visibility rain gear. Here are the main ones to consider.
Increased Safety
The most obvious but important reason roadside workers should use hi-vis rain gear is safety. Luminescent strips will get the attention of drivers, in the dark as well as during low-light times, like early mornings or at dusk. Also, bright colors make it easier for drivers to identify the presence of workers, even in the rain.
Statistically, workers are much less likely to experience an accident involving a vehicle if they are wearing high-visibility gear. This extends beyond their own persons as well.
A clear sign that workers are present by itself makes drivers more cautious. In other words, the visibility of one worker makes the environment safer for others.
Easier to Find During an Emergency
Another safety reason for wearing high-visibility rain gear does not have to do with visibility. Bright, reflective vests and other clothing make workers easier to identify in the event of an emergency. This can be invaluable if you are attempting to clear out a particular area and ensure everyone has reached safety.
Protection From the Elements
Having protective rain gear keeps workers from having to choose between visibility and staying dry. Quality, high-visibility rain gear is water-resistant. It provides protection from rain, sleet, snow, or other wet conditions.
Workers who wear it are visible to vehicles and comfortable and dry. It means they can better focus on their work, even in inclement weather.
Safety Regulations Compliance
The United States Occupational Safety and Health Administration (OSHA) has regulations pertaining to highway work zones. Standards vary depending on where the worker is in relation to traffic. In general high-visibility clothing must be worn if they are anywhere near moving traffic.
Failing to comply with these regulations can bring serious consequences. These usually involve hefty fines but could even lead to your business being shut down. State laws can add to these requirements, but they cannot detract from them.
If a worker is choosing between wearing regular rain gear and safety equipment, they are not only endangering themselves but putting your business at risk. Having suitable high-visibility rain care eliminates this dilemma.
Organization
Specialized safety rain gear also will come with the ability to add logos, patches, emblems, or other lettering. This can be useful for distinguishing team members on a job site, even in the rain.
It allows workers to identify responsibilities, skill sets, or qualifications of other personnel. This can greatly can help workflow and organization.
How to Choose High-Visibility Rain Gear
When it comes to actually buying high-visibility rain gear, there is a lot to choose from. You can find long and short, heavy and light coats. There are safety vests and waterproof ponchos.
You can select from flame-resistant or standard materials. With bottoms, there are standard pants as well as insulated winter ones. You can select between regular and bib pants.
What gear you need depends on your work environment and the conditions where you live. In general, look for clothing made from durable materials, such as polyester. Things like double-stitched seams can help withstand the harsh conditions of the worksite as well.
Especially if your business operates in warmer climates, you will want rain gear that is breathable. Depending on the types of tasks your staff performs, you might consider clothing that has many zippered pockets. Built-in knee pads can be a welcomed feature for workers who are on the ground a lot.
Look for gear that is versatile. For instance, you want clothing that keeps workers warm and dry during an early-morning downpour but is light and breathable. That way they are comfortable when the sun comes out and the humidity rises.
Find Hi-Viz Rain Gear Near You
Now that you understand how high-vis safety apparel can help protect roadside workers, you can determine the best choices for your business or project. Finding the right equipment translates to happier, safer workers that can better focus on the tasks at hand.
At Hi-Viz.com, we provide a range of safety clothing, including rain gear, for almost any occupation where you need to remain visible. We offer high-quality materials at competitive prices and with fast shipping. Take a look at our extensive online inventory and feel to reach out to us with any questions.